Honoring Our Veterans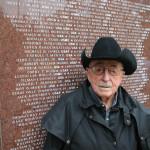 The Memorial for All Veterans, Inc. (BVVM) manages a striking inspirational monument on 12 wooded acres at Veterans Park and Athletic Complex off of Harvey Road (Hwy 30), about one mile east of Hwy 6 in College Station. BVVM accepts applications throughout the year for placement of military veteran names on its Wall of Honor. The application deadline* for Wall of Honor names to be engraved and presented at the Veterans Day Ceremony each year is Aug. 15.
* Wall of Honor applications postmarked after Aug. 15 will not be engraved until Veterans Day of the next calendar year.
The  Wall of Honor includes names of thousands of veterans who have served our country in military service. This is a rare opportunity to honor your beloved veteran, living or deceased, by placing his or her name on the Wall of Honor. The Board asks for a $150 donation for each name to cover costs associated with the memorial. Names submitted by Aug. 15 will be presented in the annual Veterans Day program on Nov. 10.
Wall of Honor Donor
Name placement
– – –
$150 on wall
$1,000-9,999 on bench
$10,000-24,999 at Service flags
$25000+ at US-TX-MIA flags
– – –
Regular Membership
$25 / year
Lifetime Membership
$800 Ages 30-under
$700 Ages 30-39
$600 Ages 40-49
$400 Ages 50-64
$200 Ages 65+
Lynn Stuart Pathway Sponsor
War memorial benches, statues
– – –
$5,000 Site sponsor
$40,000 Statue benefactor
– – –
To contact the Brazos Valley Veterans Memorial, click here.
The Memorial for all Veterans of the Brazos Valley, Inc. is a 501(c)(3) nonprofit organization. Our mission is to honor all veterans who have served in the uniformed services of the United States. The Brazos Valley Veterans Memorial grounds include 22 history panels and eight bronze statues within Veterans Park and Athletic Complex in College Station, Texas. The Memorial continues to be developed with generous support from the cities of Bryan and College Station, Brazos County, Arts Council of Brazos Valley, and numerous other individuals, corporations and organizations throughout the seven-county Brazos Valley region.