Leadership
The mission of the Memorial for all Veterans of the Brazos Valley, Inc. is to take a proactive role in honoring veterans who have served in the uniformed services of the United States.
>> Download the BVVM Strategic Plan
To this end, the Memorial for All Veterans of the Brazos Valley, Inc. was chartered as a non-profit corporation by the State of Texas on July 17, 2000. This memorial is unique in that it honors all veterans from all eras and all branches of service: Army, Marine Corps, Navy, Air Force, Coast Guard and Merchant Marine.
To further this purpose and accomplish the mission of the Board of Directors, we adopt this formal long-range strategic plan to accomplish the following specific objectives;
1. COMPLETE all remaining individual war memorials by July 4, 2026; the 250th anniversary of the United States Declaration of Independence.
2. ESTABLISH a financial endowment to ensure perpetual maintenance and repairs as needed.
3. DEVELOP a public recognition of the Brazos Valley Veterans Memorial as the preeminent memorial dedicated to all veterans throughout American history.
This plan represents the input, support and, most importantly, the commitment from the members of the Board, past and present. Much progress has been made over the past 14 years to develop the memorial into a unique educational site that benefits the community and serves as an attraction for out of town visitors. Now, a renewed commitment and unified effort by this Board is required to complete the mission as stated.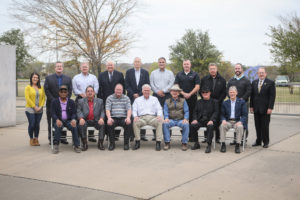 BVVM Board Members
John Anderson
Steve Beachy
Anne Boykin
Glenn Burnside
Irma Cauley
Chip Dawson
Chris Dyer
Jerry Fox
Mike Guidry
John Happ
Brian Hilton
Randy House *president
Fain McDougal
Mike Neu
Louis Newman
David Sahm
David Schmitz
Jim Singleton
Travis Small
Mike Southerland
Perry Stephney
John Velasquez
Bill Youngkin
Other Veteran Affiliations
American Legion
Veterans of Foreign Wars
Air Force Association
Order of Daedalians
Disabled American Veterans
Brazos Valley Marine Corps League
Vietnam Veterans of America
Military Officers Association of America