History
The mission of the Memorial for all Veterans of the Brazos Valley, Inc. is to take a proactive role in honoring veterans who have served in the uniformed services of the United States.
Our Story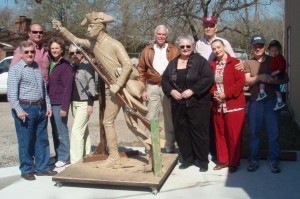 The organization was chartered as a non-profit corporation by the State of Texas on 17 July 2000. The sole purpose is to recognize and honor the service and sacrifices of all American veterans past, present and future. This unique memorial was the vision of many local veterans, friends and organizations. It was developed with the generous financial support of numerous individuals and organizations along with the long term commitment of Cities of Bryan, College Station and Brazos County Commissioners Court.
---
Lynn Stuart Pathway
The Brazos Valley Veterans Memorial Board of Directors is offering citizens of the Brazos Valley the opportunity to participate in the newest addition to the Veterans Park and Athletic Complex: the Lynn Stuart Pathway. Dedicated to the memory of U.S. Army Reserve Brigadier General Louis Lynn Stuart, Jr., who served as chairman of fundraising for the Brazos Valley Veterans Memorial, General Stuart was instrumental in development of the park into the amazing facility that it is today. The pathway is a memorial walk through the history of the 17 major wars fought by our nation, beginning with the American.