Freddy's donates to BVVM
March 6, 2017 –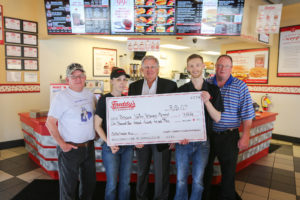 On Monday, Freddy's Frozen Custard & Steakburgers in Bryan presented a donation check for $1,476.58 in support of the Brazos Valley Veterans Memorial.
According to General Manager David Partlow, the donation was actually the sum of many small donations collected each day at the Bryan location in 2016. While placing an order, Freddy's customers would drop dollars and coins into a small donation box placed near the store's cash registers.
Featured on each box is an image of World War II veteran Freddy Simon who, according to the company website, earned the Purple Heart and the Bronze Star for his military service. Bill and Randy Simon, co-founders of the Freddy's restaurant franchise, are sons to Freddy Simon. They, along with partner Scott Redler, decided to name the company after their father.
The Brazos Valley Veterans Memorial board of directors proudly thanks Freddy's Frozen Custard & Steakburgers for their support of military veteran organizations in the Brazos Valley. Click here to learn more about contributing to BVVM.
To contact the Brazos Valley Veterans Memorial, click here.
The Memorial for all Veterans of the Brazos Valley, Inc. is a 501(c)(3) nonprofit organization. Our mission is to honor all veterans who have served in the uniformed services of the United States. The Brazos Valley Veterans Memorial grounds include 22 history panels and eight bronze statues within Veterans Park and Athletic Complex in College Station, Texas. The Memorial continues to be developed with generous support from the cities of Bryan and College Station, Brazos County, Arts Council of Brazos Valley, and numerous other individuals, corporations and organizations throughout the seven-county Brazos Valley region.