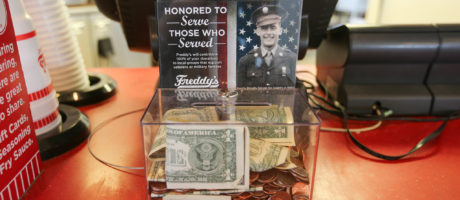 Oct. 6, 2017 – Freddy's Frozen Custard & Steakburgers in Bryan presented a donation check for $845.39 in support of the Brazos Valley

More Info →
Upcoming Events
Dec. 7, 2017 at noon -- Everyone is invited to join us as we dedicate the

More Info →
Nov. 11, 2018 – The Brazos Valley Veterans Memorial board of directors will host its annual Veterans Day Ceremony in the Louis L. Adam Memorial

More Info →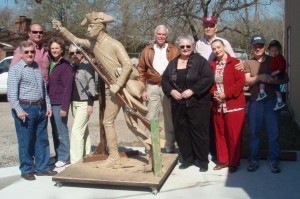 Chartered as a non-profit corporation by the State of Texas on July 17, 2000, BVVM was the vision of many local veterans, friends and organizations. Funding is made possible with generous financial support from numerous individuals, businesses and local government entities.
The mission of the Memorial for all Veterans of the Brazos Valley, Inc. is to take a proactive role in honoring veterans who have served in the uniformed services of the United States.
BVVM is fortunate to have a board of directors to provide invaluable guidance and leadership from all eras and all branches of service: Army, Marine Corps, Navy, Air Force, Coast Guard and Merchant Marine.
The board of the Memorial for All Veterans, Inc. is accepting applications through Aug. 15 for placement of military veterans' names on the

More Info →
March 28, 2013 – The Brazos Valley Veterans Memorial Board of Directors recently announced contributions to their Vietnam War Memorial capital

More Info →